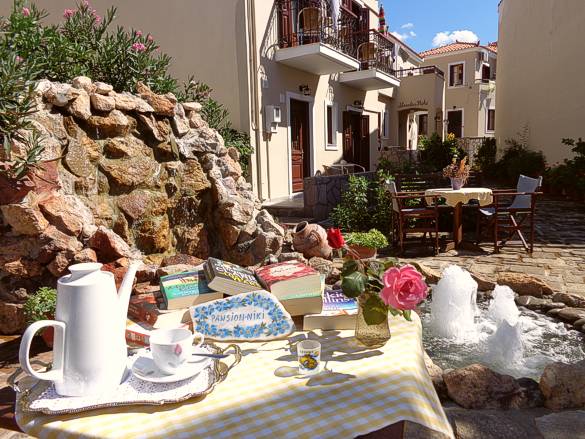 Niki Studios Sea-Front have been fully renovated in 2015 and are surrounded by a beautiful green garden where you can sit and enjoy the unique sunset of the Aegean Sea that you will remember for good. The quality service and the hospitality they offer it becomes more pronounce with the help of Mrs. Niki who is there to attend any request you might have.
Distances: 
– From the beach, 0m 
– From the center of Petra, 100m 
– From Anaxos Beach, 4Km 
– From Molivos, 5Km 
– From Eftalou Hot Springs, 9Km
– From Mytilene, 55Km
– From the Airport, 60Km
NIKI STUDIOS SEA-FRONT are five minutes walk from the market place of the village where you can find restaurants, cafés, various shops, mini markets, pharmacies, medical office, ATM etc.
Petra is on the north coast of Lesvos (Lesbos) in the North Aegean Sea, 55 kms from the island's capital Mytilene and 60 Kms from its airport Odysseas Elytis. This charming, friendly, traditional village with its beautiful, sandy beach is set in a lush, green valley against a backdrop of mountains on the north coast of Lesvos.
Dominated by its famous, picturesque church, perched 40 metres above the rooftops on a huge rocky outcrop in the centre of the village, Petra is a year-round working village. Its traditional way of life still flourishes with fishermen busy on the harbour and farmers chatting noisily over their morning coffee in the bustling village square. Pretty, cobbled streets of small, immaculately clean houses open on to shady squares and wider streets of well-preserved neo-Classical mansions set in large gardens – all overflowing with the summer scents of jasmine and bourganvillia. The little shopping streets open out on to the lively main square on the seafront where, in summer, you can enjoy breakfast in the morning sun or spend warm evenings in the pavement cafes and tavernas.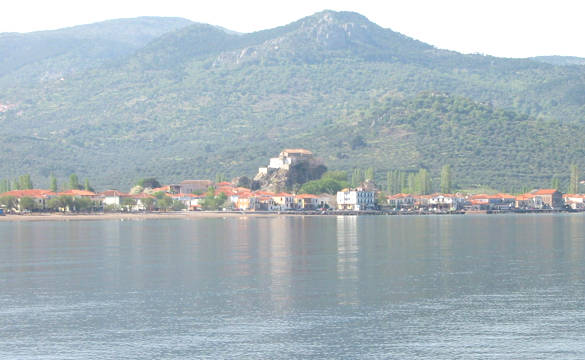 The village is enjoying a growing popularity with tourists -many returning every year – so there are modern amenities available as well as well-stocked shops. The Beach is long, sandy and safe for children. In the award-winning, clear, blue waters of the bay there are three small islands which can be visited by boat. They are official nature reserves and serve as a paradise for scores of different species of birds and small wildlife.
Nightlife centres along the coast road and the village square which boasts a superb view of the sunset over the sea. A variety of restaurants and tavernas, offering traditional Greek and European dishes, sit side by side with cafes and patisseries where coffee, cakes and alcoholic drinks are served.
Greeks often eat quite late during high summer and it is not unusual for a family to arrive at 11pm to order their supper. Later, there are some bar/nightclubs with European and Greek music and dancing.
Facilities include Bank, Post Office, Police station, 24-hour doctor service, Chemist, Physiotherapy clinic, Health food shop, Vet, Supermarkets, Bus service, Taxi rank, Harbour, Car, motorbike, scooter and bicycle hire.